Two Assassins Must Keep Moving Forward and Through Hell in this Supernatural Thriller (Out May 1st!)
28DLA: THE VOICE OF HORROR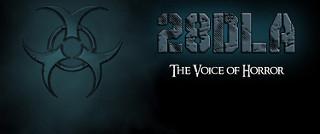 Monday, April 30, 2018 by Michael Allen
Tagline: "If you want to Survive, Keep Moving."
Forward is a Spanish horror film. From director Henry Bedwell (Solitude, 2015), this demonic feature is set to release on Digital platforms, this May 1st. This will be a wide release on many platforms. Within Forward, two assassins seek revenge, in the name of their employer. Tricked into hell, the assassins must face the demon Larissa before they can find escape. Forward is a Spanish language film, starring: Paulette Hernandez (Tales of Mexico, 2016) Axel Rico, Harold Torres and Lisette Morelos. The first poster and trailer, for Forward, are out now!
Also written by Bedwell, the first trailer for Forward shows the assassins in a strange, supernatural world. Tomas (Harold Torres) and Marco (Axel Rico) must face their fears, first. Then, they meet the greatest...