Tempus Tormentum Has Three Killers and Only One Mr. Mouse in this Preview
28DLA: THE VOICE OF HORROR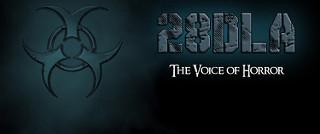 Friday, April 13, 2018
by Michael Allen
Tagline: "Capture. Torture. Kill. Repeat."
Tempus Tormentum is the latest horror film, to be released by Terror Films. This title involves three masked psychopaths. They chase The Mouse (Tyhr Trubiak), hunting him for fun. Placed in a caged, The Mouse's time is running out. The film's first trailer and poster are available here. In mid-April, Tempus Tormentum will be available on most Digital platforms. A preview of this horror film's upcoming release is hosted here.

Director James Rewucki also wrote the story for Tempus Tormentum. His tale involves an unlucky drifter. He is targeted by: the Clown (Dr. Rage), the Devil (Darren Johnston) and Slashmouth (Paul McWhinney). Together, this trio turn the drifter's life into a living Hell.