A Killer Brings His Towel to Pool Party Massacre this Week (Out August 17th)
28DLA: THE VOICE OF HORROR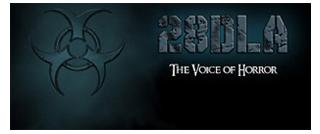 Tagline: "Worst Pool Party Ever!"

A Red Band trailer for Pool Party Massacre was released last month; the clip can be found here:A Red Band Trailer for Pool Party Massacre. Now, a second, softer, Green Band trailer has been released. This slasher horror feature releases this August 17th, on Digital platforms. Directed by Drew Marvick, Pool Party Massacre involves a gathering of rich socialites, with one demented killer. The film stars: Sally Burnswello (Do Not Disturb) Nick Beyer (Popcorn Killer) Dora Deceuninck and Jimmy Grosse. The latest trailer, for Pool Party Massacre, is hosted here - along with more release details.

This second clip shows the killer, at the bottom of a set of stairs. Meanwhile, the socialites show up for good times by the pool. Unknowingly, they are being stalked one by one by this shadowy killer. The blue water turns red, this week.

Pool Party Massacre will be available on most Digital platforms. Terror Films will show this indie horror feature on...