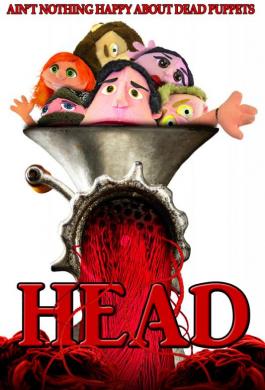 NOW AVAILABE ON THE FOLLOWING PLATFORMS:


SYNOPSIS: HEAD is an ode to 80's horror flicks. A group of twenty-something's go on a camping trip. There are hot chicks, sex in tents and a serial killer chopping off heads and tying them to a tree in the woods.
What more could you ask for? Oh yeah. All of the characters are puppets!

The film, given life by the creative team at Elmwood Productions, has been creating quite a bit of buzz since it first hit the festival scene back in 2015 and started racking up Official Selections and multiple festival prizes over the next couple of years including LEAFF, Yellow Fever Film Festival, Fantastic Horror Film Festival, Hong Kong Art House Film Festival, Legless Corpse Film Festival, Live Free or Die, Madhouse Movies, Manhattan Independent, Zed Fest, Fear NYC and the Horror Film Fest in Puerto Rico.

Multiple reviewers, including Dread Central who stated, "truly skewered, yet oddly creative stuff here" to "a unique style in the mini-genre of puppet horror" from Ain't It Cool News, have critically praised the film. Directed by Jon Bristol, who also penned the script with J.R. Calvo and Brian Woodman, the film was produced by Rick Passmore and features the voice talents of Bristol, Manda Vasas, Nick Foreman, Mike Finland, Sally Arlette Garcia and Ben Farley. Chris Gierowski executive produced.

Produced By:
Chris Gierowski (executive producer)
Jon Bristol (executive producer)
Russ Werlebird (executive producer)
Muffin Burton (executive producer)
Rick Passmore (producer)
Written By:
Jon Bristol
J.R. Calvo
Brian Woodman
Starring:
Manda Vasas
Nick Foreman
Mike Finland
Sally Arlette Garcia
Ben Farley
Jon Bristol