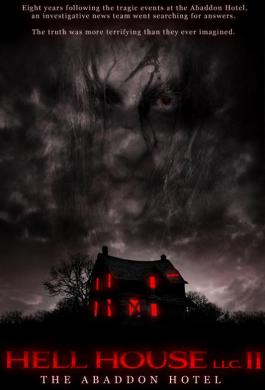 HELL HOUSE LLC II: THE ABADDON HOTEL
Exclusively playing on SHUDDER!!!
Genre distributor TERROR FILMS has teamed up with SHUDDER, the leading premium streaming service for thriller, suspense and horror, for the exclusive release of writer/director Stephen Cognetti's highly anticipated sequel, "HELL HOUSE LLC II –THE ABADDON HOTEL".
HELL HOUSE LLC, which was originally released by TERROR FILMS in the fall of 2016, has become a top performer across digital platforms garnering both critical and consumer praise and landing the film on top "must see" horror lists from multiple outlets.
The sequel will be available exclusively on SHUDDER for the first 90 days in the U.S., Canada, the U.K. and Ireland.
As part of the release, SHUDDER is offering fans a 14-day free trial with promo code HH2TFSH – head to www.shudder.com and create an account to redeem it.
TERROR FILMS will make the film available on Friday, January 4th in multiple territories on iTunes, Amazon Instant and Vudu with additional platforms to follow at a later date. If you haven't already seen it, be sure to check out the official trailer (linked above).
SYNOPSIS: The sequel picks up eight years since the opening night tragedy of HELL HOUSE LLC and still many unanswered questions remain. Thanks to an anonymous tip, an investigative journalist is convinced that key evidence is hidden inside the abandoned Abaddon Hotel - evidence that will shed light on the hotel's mysteries and many unsolved deaths and disappearances.
She assembles a team to break into the hotel in hopes of discovering the truth. But the source of the tip and the secrets of the Abaddon Hotel are more horrifying than any of them could have imagined.
From writer/director Stephen Cognetti: "I made this film with the fans in mind in hopes that it would answer questions from the original while deepening the overall story."
Follow Stephen Cognetti on Twitter at: @sajc05
About Shudder:
AMC Networks' SHUDDER is a premium streaming video service, super-serving fans of all degrees with the best selection in genre entertainment, covering thrillers, suspense, and horror. SHUDDER's expanding library of film, TV series, and originals is available in the US, Canada, UK, Ireland, and Germany on most streaming devices for 4.99/month or 49.99/year. To experience SHUDDER commitment-free for 7 days, visit www.shudder.com.
Facebook/Twitter/Instagram/YouTube: @Shudder